Checks and Money Orders also accepted. Email us for details.
Postmaster@MichiganHotdogs.com

---
Michiganhotdogs.com and TLREnterprise are not affiliated with any of the manufacturers producing the products pictured. We purchase at retail prices and provide the service of pick up and shipping.
We are not responsible for the ingredients or manufacture of these products.
The prices you see here are higher than you would find in a michigan store due to shipping costs incurred through USPS.
---

NEW!!!!
Do you miss your favorite Halo Burgers?
We can ship you 20 Q.P. Halo Burger patties cooked at Halo Burger, flash frozen and shipped to your door. Rejuvenate them on your stove top or microwave for that delicious Halo Burger taste.
We provide just the patties so be sure to contact us if you need anything else with these. Postmaster@MichiganHotdogs.com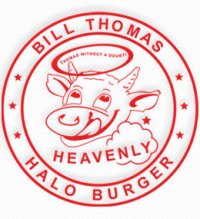 Halo Burger is an old time favorite of many people that moved from the Flint, Michigan area. We purchase your Burgers from the original Halo Burger in Flint, Michigan located on Saginaw Street in the old Vernors building. Nothing is better than having them cooked on that Halo Burger Griddle. Your burgers will be cooked by Halo Burger, frozen and then packed with care in a 2" thick cooler with freeze packs to insure freshness. Order your Halo Burgers from us today!

---
Today's Specials
Flint Coneys!
10lb box Koegel Vienna's with
4lbs - Flint Style Coney Sauce
$99.00 (save $30)
Detroit Coneys!
10lb Box of Koegel's Vienna's with
6lbs - Detroit Style Coney Sauce
$109.99 (save $50+)
Great Lakes Special
10lb box Koegel Vienna's
17oz Jar Original Red Sauce
1-2 Liter A&W Root Beer
1-2 Liter Vernors

$140.00
---
Michigan Chocolate Covered Dried Cherries

$24.99/lb
---
Don't see what you're after? Send us an e-mail at: Postmaster@MichiganHotdogs.com
---
Purchasing Terms and Conditions:
ITEMS ARE SHIPPED Monday's VIA Priority USPS/UPS TO GUARANTEE FRESHNESS.
Please order by noon Sunday for same week shipment. Otherwise your shipment will go out the following week.
PERISHABLE PRODUCTS ARE UNINSURABLE
Please ship to a location where you will be available to accept delivery during the business day.
CUSTOMER IS RESPONSIBLE FOR CORRECT ADDRESS. IN THE EVENT THAT AN INCORRECT ADDRESS IS GIVEN, THE PRODUCT IS NON DELIVERABLE AND RETURNED TO THE SHIPPER, NO REFUNDS OF PRODUCT OR SHIPPING WILL BE ISSUED.
** REFUNDS WILL ONLY BE GIVEN IN THE UNLIKELY EVENT OF LOSS OR DAMAGE DUE TO NEGLIGENCE ON THE PART OF THE SHIPPER, WHICH IS DETERMINED BY THE USPS GUIDELINES. **
We accept payment via Credit Card through PayPal secure site.

With the exception of candy, Delivery to the continental US only! AK and HI please contact for shipping quote.
Candy prices include shipping globally. check your countries import restrictions before ordering. We are not responsible for any tax/duty or any other import problems.
BY PURCHASING YOU AGREE TO THESE TERMS AND CONDITIONS.